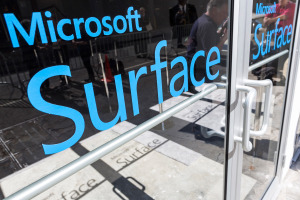 I've been a Linux guy for close to 15 years now. I started using it because the simulation software I needed only ran on Linux, and I've been hooked ever since. Even though the "year of the Linux desktop" never arrived, I've been using it as my desktop for a very long time now. More than a decade ago, I moved beyond just using Linux to creating it, as a Gentoo Linux developer and a contributor to X.Org, among other open-source software.
So you could say I'm fairly dedicated, on a personal level, to Linux and the ecosystem around it.
A couple of years back, I just had this reinforced. Microsoft kindly gave me a Samsung Series 7 tablet with Windows 8 on it, but the experience was … underwhelming. The tablet was just plain heavy, switching between desktop and Metro (i.e. tablet) modes felt disjointed and awkward, and needing to carry around a separate stand, keyboard, and mouse was a killer. I felt pretty good about sticking with Linux.
Three weeks ago at the Adobe Max conference, Microsoft gave a Surface Pro 3, its latest and greatest device, to every attendee. It was the i5/256GB model, which retails near $1300 for the curious; you can get the i3/64GB model for about $800 on the low end. The Type Cover is another $130 or so, but it is absolutely critical so I'm not sure why Microsoft doesn't just bundle it with every Surface.
I figured I'd give it another try, so I picked mine up and started playing with it.
Then I kept playing. And it still didn't suck. Here's my experience, as a Linux guy trying out the latest and greatest Microsoft has to offer.
The hardware
From the outside, it looks like this:
The outside has a magnetically attached keyboard that doubles as a screen protector. Overall, the whole combo weighs just under 2.5 lbs, lighter than a Macbook Air. The iPad Air 2, however, is now under 1 pound, so that ought to set some context for you.
As will become clear, I regard the Surface Pro 3 as a true laptop replacement rather than merely a tablet, and the fact that it's accomplished this with that flexibility and low weight is remarkable.
It also comes with a smart (i.e. battery-powered) stylus if you want to sketch, which will pop you into the OneNote app with the touch of a button. It's got just enough buttons on it to let you avoid the keyboard for most of your sketching work — a right-click, an eraser, and the top one opens OneNote and takes screenshots. Plus there's a pressure-sensitive tip that will do things like vary line thickness based on how hard you're pushing.
The pen loop is actually attachable anywhere, but that seemed like a reasonable place. Every once in a while somebody confuses it for a clipboard when it's closed, but meh.
There's a few ports. This one is the power connector:
As you can see, in contrast to a Macbook Air, you get an actual port rather than a sealed magnetic connection. However, the Surface Pro does make extensive use of magnets so the plug stays in reasonably well. My biggest concern is that the plug is basically a flat board, which could snap off if I bang it wrong on something. Not being terribly interested in ruining a brand new device, I haven't tested that hypothesis.
Here are the other ports:
I show them mainly because of the humor factor. The right one is clearly USB, but doesn't that one on the left look … eerily familiar? If you're thinking it's a mini DisplayPort, you're right — exactly the same as the one on a Macbook Air. This made it incredibly amusing to me when I plugged in my Apple miniDP-to-VGA adapter to use a projector 2 weeks ago.
It's also got an audio jack and a few buttons (power, volume up/down), and a very interesting combination of magnets to hold the cover closed, to tilt up the keyboard, etc.
After you open it up, you make it stand up with a kickstand:
The great thing about the kickstand is that it's 100% flexible about what angle you put it at. There's no predefined positions, so you can always angle the screen to point directly at your eyes, or to avoid glare.
The thing that really sucks about the kickstand is that, as you can see in the picture, it's sharp, and when set up, it makes the Surface Pro 3 take up significantly more desktop depth than a laptop would.
Why does sharp matter? Ever tried using a laptop in your lap? If you had to do that while resting its weight on two sharp corners that gouged directly into your knees, you would probably be less than thrilled about the experience. I won't show you the red, unpleasant dents in my legs from using it for a couple of days at a conference, but trust me, they were there (and fortunately temporary).
Why does depth matter? I tried using the Surface at a Blue Bottle coffee shop in San Francisco last week, which has a shallow bar you can sit at. Turns out that bar is so shallow that you effectively can't work with a Surface, without doing strange contortions that are likely to damage either the facilities or your wrists.
The software
Once you open it up, here's what you get:
One of the big things I missed with Windows 8.0 on the Samsung was that it seemed optimized purely for Metro apps (the new style) rather than also working well with desktop apps. But with 8.1 on the Surface Pro 3, it's a different story. The keyboard is surprisingly usable, greatly unlike many of the flat keyboards I've used in the past. The trackpad actually clicks, and you get the usual behavior of a two-finger touch giving you a right-click action.
Once you log in, you're presented with a Metro tiled start screen. For those of you who haven't seen Windows in a while (or a long, long time), here's what that looks like:
You can pop into the old-school desktop mode or stick in the touch-friendly Metro mode. Having a solid keyboard+trackpad in addition to the touch interface makes both of them work smoothly, which is why I earlier said the Surface is essentially useless without the Type Cover.
Once you've got some apps open, you can do interesting things that Linux users have enjoyed for years, like tiling your windows:
All in all, the software experience is quite good. The touch works well, the desktop mode works well, and the integration between them seems much more consistent and smooth in 8.1. It's got all the usual Windows apps available like Office, Adobe stuff, etc so you're not limited to whatever's available on a tablet, which often has limited functionality.
Overall
Nearly all the problems are with the hardware, particularly the kickstand I mentioned previously in addition to some minor annoyances like the keyboard making it difficult to touch the taskbar when you tilt the keyboard up, and the battery life (up next).
I've been traveling exclusively with the Surface rather than my usual laptop for three weeks to see whether I could survive without any fallback. And frankly, it works great. The battery life is much more like what you'd expect out of a laptop (maybe 2/3 of a day under my workloads), but then again, that's exactly what it is. If you also traveled with a portable battery or found a power plug once a day, you could do just fine at conferences with it.
The Surface Pro 3 is a laptop with the benefits of a tablet, rather than a tablet you can try to pretend is a half-cocked laptop.
So, good show, Microsoft. Keep on iterating and keep up the excellent work. It's great to see you experimenting with software and hardware. The price point leaves something to be desired in comparison to other premium devices (an 11″ Macbook Air w/ similar internals runs $200 cheaper). But given the sales numbers I've been hearing, I'm hopeful that economies of scale will begin to help with that.
Disclosure: Microsoft has been a client and gave me a Surface Pro 3, as with every other attendee at Adobe Max. Apple is not a client. The first picture is courtesy Microsoft, while I took all the others.